Our control system
reduce time and resources required

and increase accuracy and safety
Langa Industrial control systems are specially designed to control and monitor aircraft lifting and lowering operations with a set of hydraulic tripod jacks, reducing time and resources required, but increasing accuracy and safety.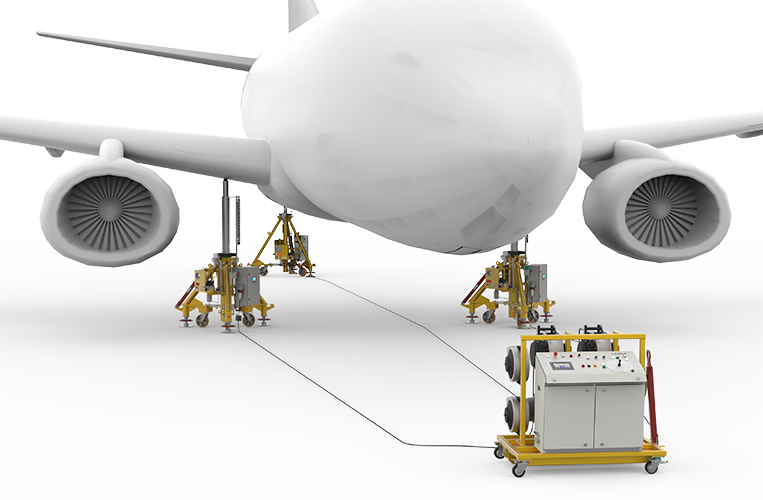 QUALITY & BENEFITS
Aircraft manufacturer homologation in main models.
Designed with the highest safety and quality standards.
Long service life in operation.
Used in Final Assembly Lines of aircraft manufacturers.
Reduce time and operators required during lifting and lowering operations.
Reduce possible aircraft damages due to human mistakes.
User-friendly control panel interface with clear visual indications.
Individual operation of each tripod or simultaneous movements with the complete set of jacks.
Skydrol resistant paint.
OEM After sales service.
At least 15 years of spare parts availability an in stock.
Improve your jacking operation with
HELPS
As a result of our commitment with innovation, whe have developed our HELPS (Hydraulic and Electronic Lifting Programmable System). Four different models with 3 automatization levels to improve your aircraft lifting operation. Select yours.
TRADITIONAL AIRCRAFT JACKING OPERATION
TRADITIONAL SYSTEM 7 Operator required
PRELIMINARY OPERATIONS 1 Operator to position and level hydraulic jacks
OPERATION 3 Operators to move safety nuts
3 Operators for the jacks
1 Operator to coordinate the task
OUR HELPS
Our HELPS control systems family has four different version with 3 automatization levels, from fully automatic version with only one operator to control the complete task, they are the perfect choice to improve your aircraft lifting operation.
FULLY AUTOMATIC
Save up 6 operators during operation
Handle all the lifting and lowering jacking process with only one operator.
Our PLC system is continuously monitoring aircraft pitch and roll angles, to correct every jack height and control the automatic operation of the safety nuts for an easy and safe maintenance task.
HELPS I
Lifting and lowering controlled using displacement transducers to know in each moment the jack position.
Jack height monitored and programmable.
HELPS II
Lifting and lowering controlled using a double axel electronic WIFI inclinometer.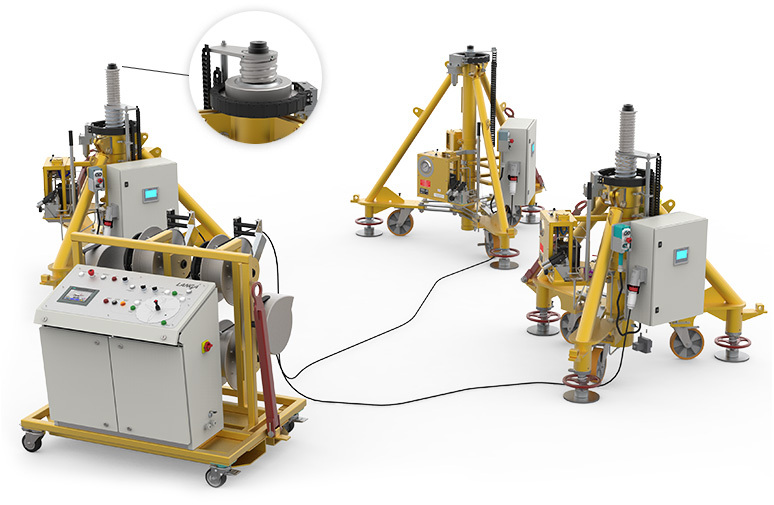 SEMI-AUTOMATIC
Save up 3 operators during operation
HELPS III
Only four operators manage all the jacking maintenance task of your aircraft.
Our PLC, located in the control panel, monitors aircraft pitch and roll angles to automatically correct any deviation modifying each jack height. Safety nuts are operated manually.
HELPS III is valid for jacks already in operation and for any manufacturer with only a slight modification.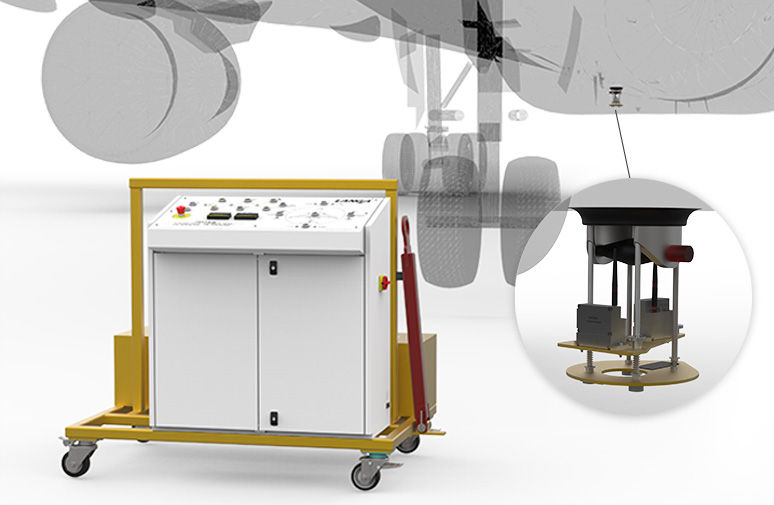 MANUAL OPERATED
Save up 3 operators during operation
HELPS IV
Four operators will be able to lift and lower the aircraft, reducing any damage risk.
Without PLC, all the task is controlled by one operator from a remote control box. Pitch and roll angles deviation are shown in our i-Jack System, composed by an inclinometer and clear light indicators for each jack inclination.
HELPS IV is valid for jacks already in operation and of any manufacturer with only an easy modification.
REMOTE CONTROL BOXES
Save up 2 operators during operation
Increasing safety at competitive pricing is possible. Using our remote control boxes, only one person is able to
operate simultaneously a complete set of tripod jacks or each unit individually, to lift or correct aircraft levelling.
ELECTROHYDRAULIC POWER PACK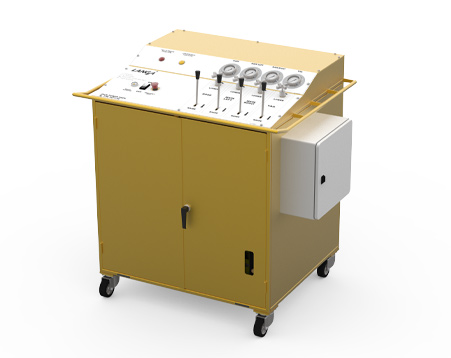 ELECTROHYDRAULIC CONTROL BOX
PNEUMATIC CONTROL BOX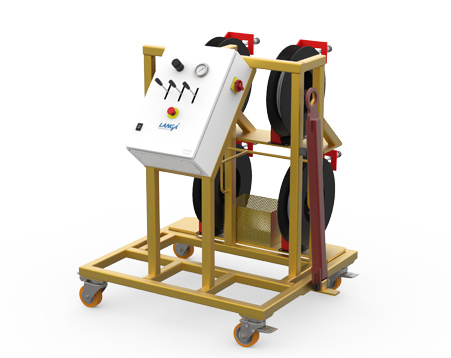 ACCESORIES AND RELATED EQUIPMENT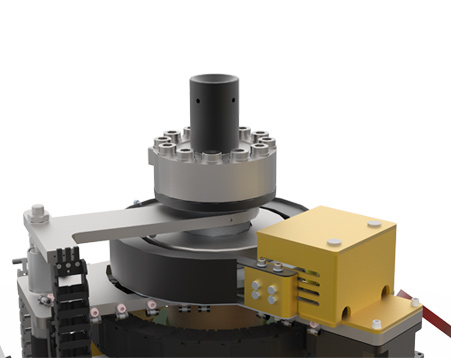 WEIGHING SYSTEMS
Load cells can be included to provide weight in each jack, for an easy aircraft weight and balance task.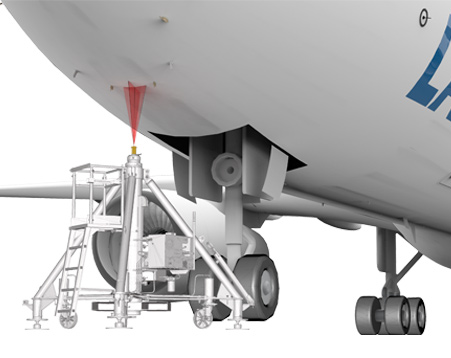 UNIVERSAL LASER TARGET SYSTEM
For a fast, safe and effective positioning of jacks under the aircraft fuselage.
Valid for Langa tripod jacks and of any other manufacturer
Products
in Stock
To reduce lead times to our customers we have the most common equipment in stock to give service to your aircraft immediately.
YOUR FASTEST GSE PARTNER
Products
for Rent
Our rent alternative makes our equipment affordable in case of an urgent maintenance of your aircraft. Is the most flexible financial option and reduce your company investments.
EXPLORE THIS NEW GSE OPTION