Reduce time and resources needed are assured with our
simple and user-friendly operation panel
Langa Industrial service carts are an effective and economic equipment to supply oxygen and nitrogen to your aircraft or helicopter fleets.
Our engineering team have put together the strongest of their efforts and experience to develop the most enduring carts, with an extremely robust chassis and steering.
Designed with the maximum safety and quality standards, their modular configuration allows the customization of each unit to your specific operation requirements. Reliability and reduce time and resources needed in your maintenance tasks are assured with our simple and user-friendly operation panel.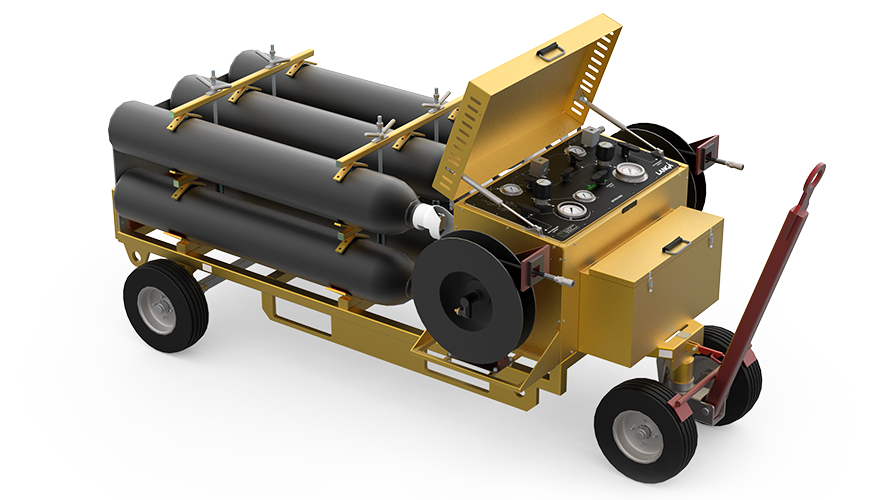 QUALITY & BENEFITS
Aircraft manufacturer homologation in main models.
Designed with the highest safety and quality standards.
Long service life in operation.
Robust chassis and components to reduce maintenance costs.
Designed with the lowest weight to be operated by only one person.
Two independent axles to provide superior mobility close to the aircraft.
Capacity from 2 up to 6 gas bottles in horizontal or vertical configuration.
Storage box for hoses or tools.
Towable at 25 km/h (16 mph) and parking brake for storage.
Calibrated pressure gauges and tested safety valves.
CE certification and compliance with EN, ISO and IATA(AHM) regulations.
Skydrol resistant paint.
OEM After sales service.
At least 15 years of spare parts availability an in stock.
OUR OXYGEN AND NITROGEN SERVICE EQUIPMENT
With capacity from 2 up to 20 bottles, our oxygen and nitrogen service equipment are available in hangar, ramp or truck configurations. Each unit could be customized to your operation with available options.
Service carts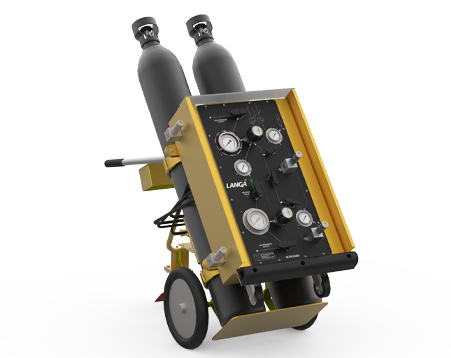 HANGAR CONFIGURATION
Reduced weight and quick operation are the key features of our hangar oxygen and nitrogen carts.
Mobility and stability with vertical chassis are improved with its three solid elastic wheels in two suspension axles, enabling all the aircraft servicing handled by one operator.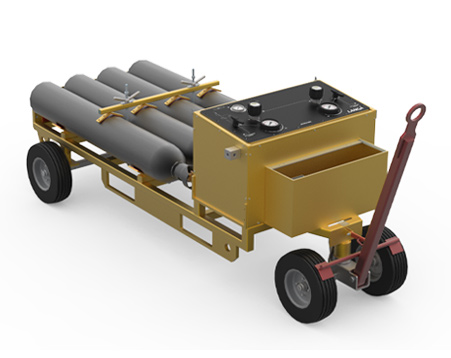 RAMP CONFIGURATION
Designed for carrying from two up to six nitrogen or oxygen bottles in horizontal configuration, our ramp service carts enhance towing speeds up to 25 km/h.
Our carts design allows a wide range of options to adapt configuration to your specific task or operation with aircraft.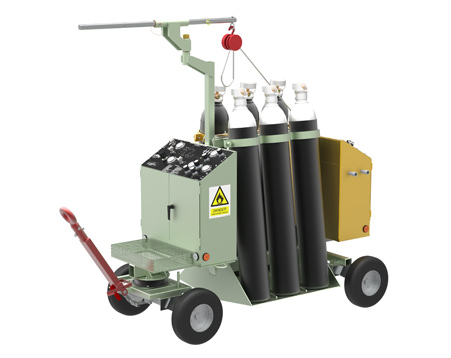 DUAL CONFIGURATION
Our dual oxygen and nitrogen carts are the best option to carry out all the maintenance task of your aircraft reducing time and resources allocation.
Two independent control panels, located on the front and the rear sides, clearly separated and with different colours, avoid any confusion with the gases in daily use.
CONFIGURE YOUR SERVICE CART
Configure your service cart to your operation requirements with our modular design concept.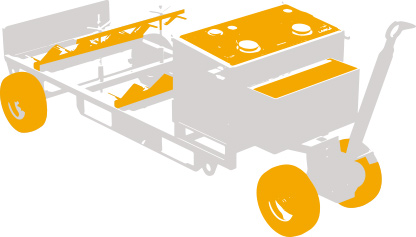 CHASIS OPTION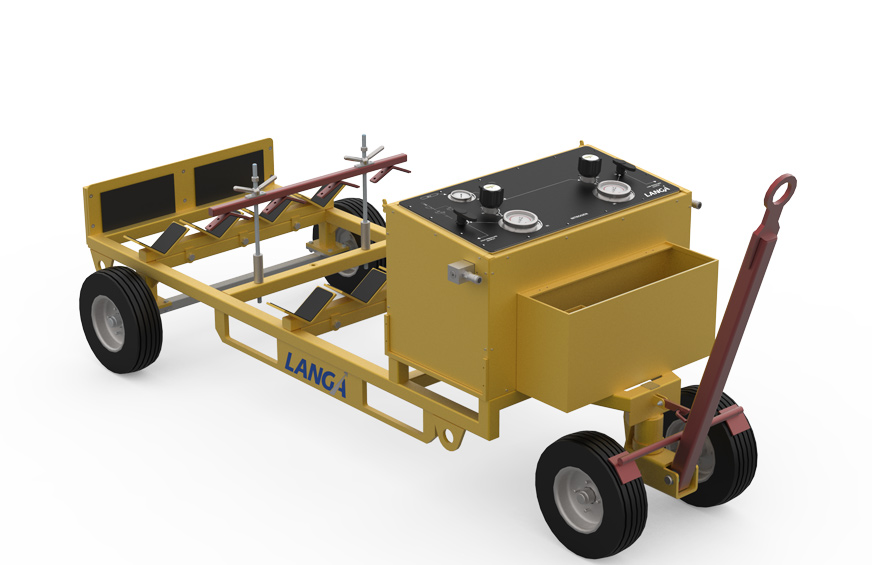 CONTROL PANEL OPTIONS
BOTTLES RECHARGE SYSTEM
Reduce risks during operation refilling without changing bottles, using our auxiliary circuit with independent external input.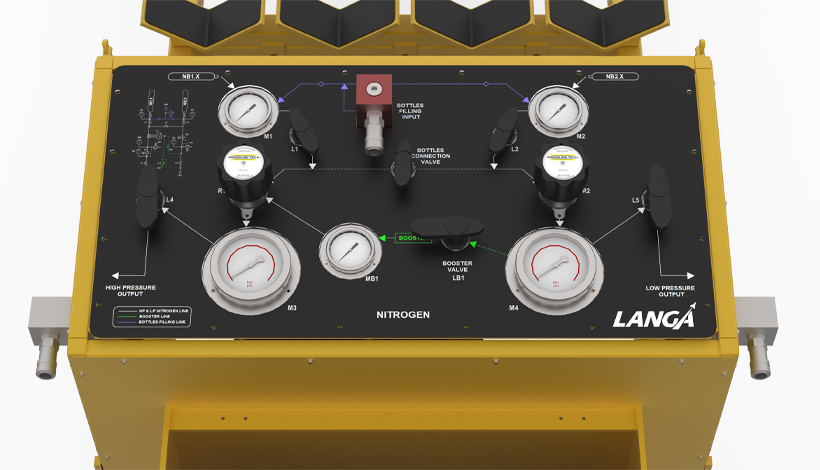 SERVICE TRUCKS
SERVICING TRUCKS
For a heavy oxygen and nitrogen use, we have developed an autonomous system integrated in a truck to transport and supply the gases wherever the aircraft is.
Easily configured to your specific requirement, support frame is adapted to carry up to 20 gas bottles with a total capacity of 1.000 litres.
No external source is needed due to the generator system, used to give power to the compressor unit and this in turn, activates booster functioning to supply gas at high requirements, even when the reservoir cylinders are with low stored pressure.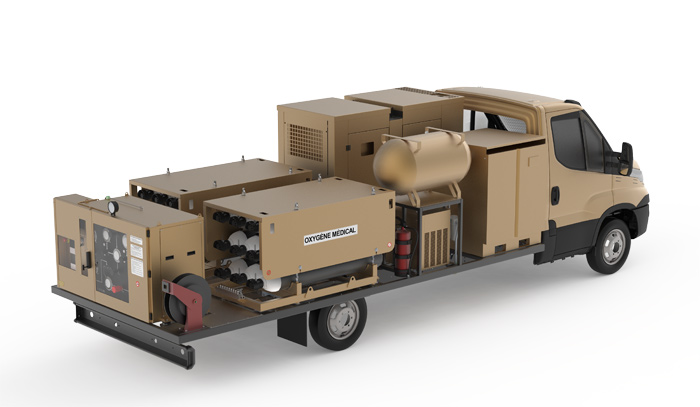 Products
in Stock
To reduce lead times to our customers we have the most common equipment in stock to give service to your aircraft immediately.
YOUR FASTEST GSE PARTNER
Products
for Rent
Our rent alternative makes our equipment affordable in case of an urgent maintenance of your aircraft. Is the most flexible financial option and reduce your company investments.
EXPLORE THIS NEW GSE OPTION