Hydraulic solutions
and systems
for military vehicles
Langa Industrial have developed different hydraulic lifting systems and many special solutions for Armor Personnel Carriers & Main Battle Tanks (APC & MBT). Tough, mobile and compact equipment for maintenance or repair tasks in base or deployments in the worst operation conditions around the globe.
Our experience of 50 years with hydraulic equipment for military use, allow us to design and manufacture special hydraulic cylinders and dumpers up for many applications required in the latest APC & MBT vehicles.
We also produce dozer blades and winch conversion kits enabling basic line military vehicles to be converted in combat engineering and recovery versions in a few minutes.
Mobile hydraulic lifting systems
Precision and robustness are the key drivers to ensure reliable products to help our customers to improve security and reduce time in maintenance operations with their APC&MBT military vehicles.
With this idea in mind, we have developed a wide range of lifting and support hydraulic equipment and tools for the latest vehicles manufactured worldwide.
OUR MOBILE HYDRAULIC LIFTING SYSTEMS
HYDRAULIC PLATFORMS
16t load capacity (NSN 4910-33-203-0382)
40t load capacity (NSN 3960-33-205-5886)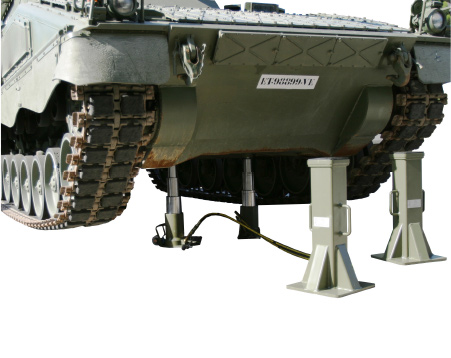 LIFTING CYLINDERS
80t load capacity (NSN 4910-33-201-9404)
Special hydraulic cylinders and suspension systems
Being aware that reliability and durability are key to fulfil a mission, our company always uses the highest quality, military standards and the latest technologies available.
We design and produce special hydraulic cylinders and suspension dampers for main manufacturers of APC & MBT vehicles and for many different applications:
· Hydraulic dampers for APC.
· Cylinders for access gates.
· Self- propelled cylinders.
· Cylinders to control direction of shooting and stabilization.
· Suspension cylinders.
OUR SPECIAL HYDRAULIC CYLINDERS AND SUSPENSION SYSTEMS
SPECIAL CYLINDERS
HYDRAULIC DAMPERS
Dozer blades and winch conversion kits
Langa's dozer blade and winch kits allows the conversion of basic APC & MBT into a Combat Engineering and Recovery Vehicle in a few minutes and with only one person, incorporating a mission kit for quick disassembly of the interface.
With rugged military design it retains full basic vehicle transport, performance and mobility capabilities.
Kit configuration allows interchangeability of the system between vehicles. Easy to use and maintain, they are proven in combat since 1991 with more than 300 units in service.
Main features
Blade manufactured of anti-wear steel.
Winch with constant pull force.
Activated by a hydraulic pump connected to vehicle thermal engine.
Emergency system with electric pump inside the vehicle.
Quick disassembly of the blade.
Controls located at cabin.
Movement of the blade with mechanic lock for transportation.
OUR DOZER BLADES AND WINCH CONVERSION KITS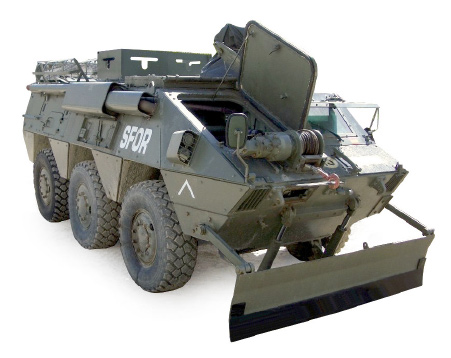 BMR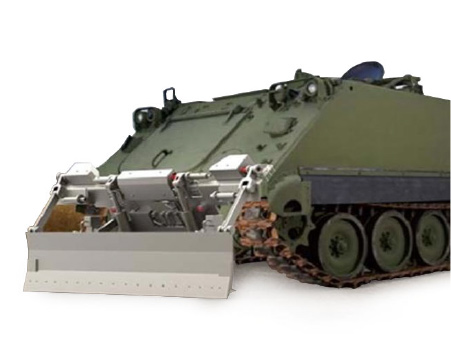 TOA/M113
PIZARRO/ASCOD