Maximum quality standards makes platforms highly valuable for our customers because of
their safety and operation comfortability.
Langa Industrial has a wide experience and background in the design and manufacturing of hydraulic equipment for loads lifting. Our 50 years' experience and cooperation with aircraft manufacturers as AIRBUS has allow us to develop our platforms portfolio.
Give service to several aircraft models and perfect adaptation to each maintenance task are major drivers of our designs. These concepts added to the maximum quality standards, makes platforms highly valuable for our customers because of their safety and comfortability in operation.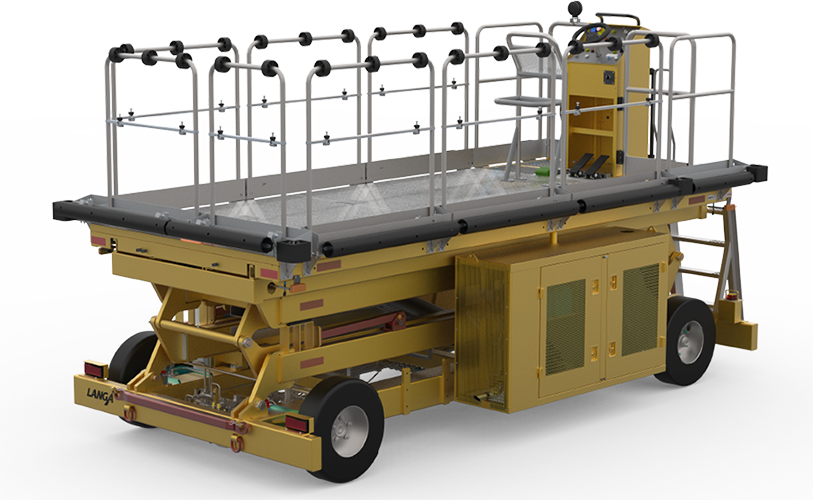 QUALITY & BENEFICTS
Ground support equipment manufacturer guarantee.
Designed with the highest safety and quality standards.
Long service life in operation.
Perfect adaptation to each maintenance task.
Modular configuration with options to customize each unit to your specific requirements.
Fixed, foldable and retractable handrails to avoid any aircraft impact.
Working platform and steps made with heavy duty and non-slip grid.
Rubber bumpers on the front side of the platform.
Robust structure and components to reduce maintenance costs.
All unpainted parts galvanized for corrosion resistance.
Skydrol resistant paint.
CE certification and compliance with EN, ISO and IATA(AHM) regulations.
OEM after sales service.
At least 15 years of spare parts availability an in stock.
OUR MAINTENANCE PLATFORMS
Available in towable, self-propelled or truck mounted versions, our platforms are the best option to reach critical areas of your aircraft for maintenance operations. Each unit could be customized to your operation with different options.

Maintenance platforms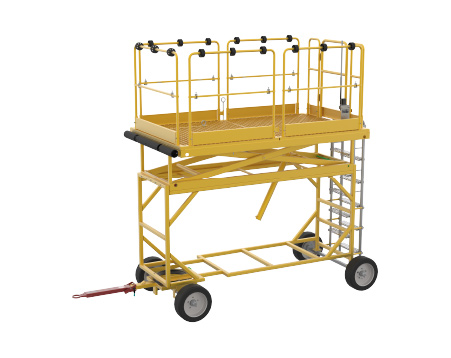 TOWABLE
Specific aeronautical design with variable height up to 3.800mm, allows a perfect adaptation to different maintenance task on several aircraft models.
Robust steel structure, hydraulic installation and non-slip working grid comply with the European standards and ensure their use under the most extreme operating conditions.
Solid rubber wheels, steering axle and parking brake make them towable at 25 km/h.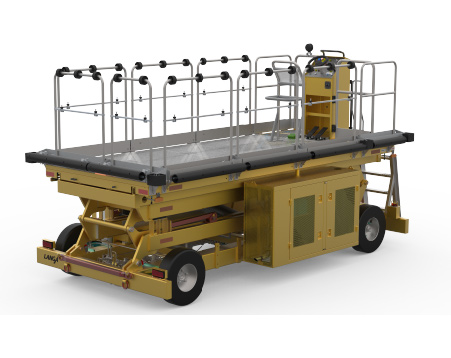 SELF-PROPELLED
Our self-propelled platforms are available in three different configurations depending on the area in which the customer performs maintenance operations of their fleet.
Equipped to work inside hangar with their electrical configuration, outside with diesel engine or for all conditions with its hybrid versions, our self-propelled platforms are the best option for maintenance tasks.
Valid for all narrow and wide body aircrafts, our platforms have up to 14.5 meters working height and 8km/h driving speed.
Also, working platform can be moved longitudinally 1.5m to enable access to the top side of the wings.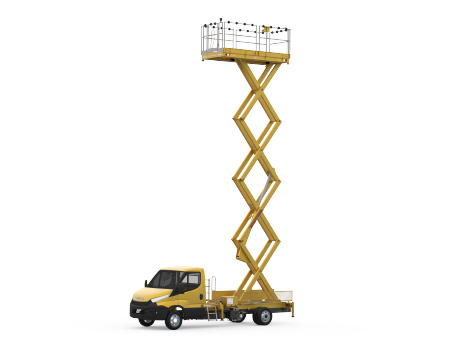 TRUCK MOUNTED
Developed to be installed on different commercial truck chassis, our truck mounted platforms have been conceived for an easy and safe maintenance operation and the fastest availability of the equipment on the aircraft parking area regardless long distances.
Variable working height up to 12 meters and its horizontal extension allow access to the different areas of the aircraft for maintenance purposes.
Easy stabilization on irregular grounds, thanks to the hydraulic stabilizers and the safety devices to prevent lifting movements with excessive inclination.
Products
in Stock
To reduce lead times to our customers we have the most common equipment in stock to give service to your aircraft immediately.
YOUR FASTEST GSE PARTNER
Products
for Rent
Our rent alternative makes our equipment affordable in case of an urgent maintenance of your aircraft. Is the most flexible financial option and reduce your company investments.
EXPLORE THIS NEW GSE OPTION