We are a relevant partner for handling and lifting solutions
for aerospace final assembly lines
Years of experience in testing and validating complex products have helped us develop deep knowledge in the field. Our technical know-how, conceptual capabilities and our agility have made us a relevant partner for handling and lifting solutions for aerospace final assembly lines.
OUR PROCESS
Our team, composed of passionate experts, come along with you throughout the process to find the best engineered solution. We are sure that we would propose the perfect solution you are looking for.
MAKING THE DIFFICULT SEEM EASY
We can provide the most complex structures for handling and lifting loads up to 30 ton. Our innovative solutions include custom automatic guiding or lifting software.
AIRCRAFT DOCKING SYSTEMS
We design and manufacture modular and mobile docking systems to gain access to the aircraft airframe in hangar environments, improving operators access for maintenance tasks, repair operations or production works on aircrafts or helicopters.
Each system design is tailored based on the type of work to be performed and aircraft or helicopter to be accessed.
OUR PROJECTS:
• Docking system for Eurofighter.
BAE Systems.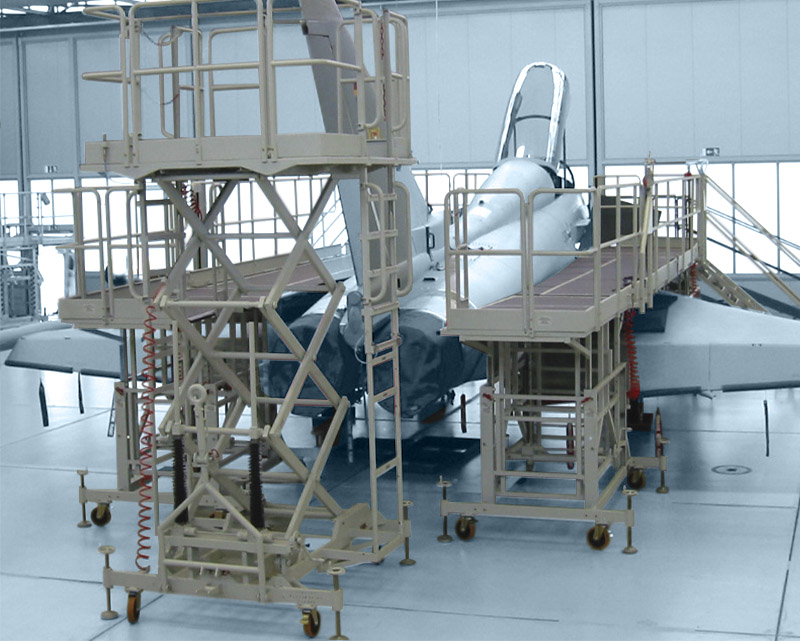 AUTOMATIC GUIDED VEHICLES (AGV)
Our AGVs offer new possibilities of mobility and logistics in 4.0 aerospace industry.
Mobile platforms are designed with specific interface to transport heavy loads giving excellent accuracy and easy automatic operation by remote control
OUR PROJECTS:
• AGVs for A320 JIGS.
• AGVs for A380 JIGS.
• Transport tooling for A380 JIGS.
Airbus Defence & Space. Toledo.
• AGVs for A400M assembly line.
Airbus Defence & Space. Cádiz.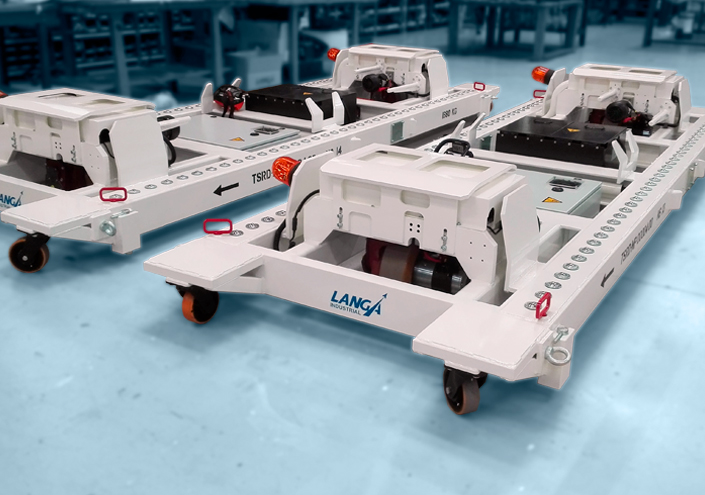 VEHICLES FOR HEAVY LOADS POSITIONING
ERIS system handling tool
Handling tool to move and position lens of VTL telescope in Paranal observatory (Chile).
European Southern Organisation. Germany.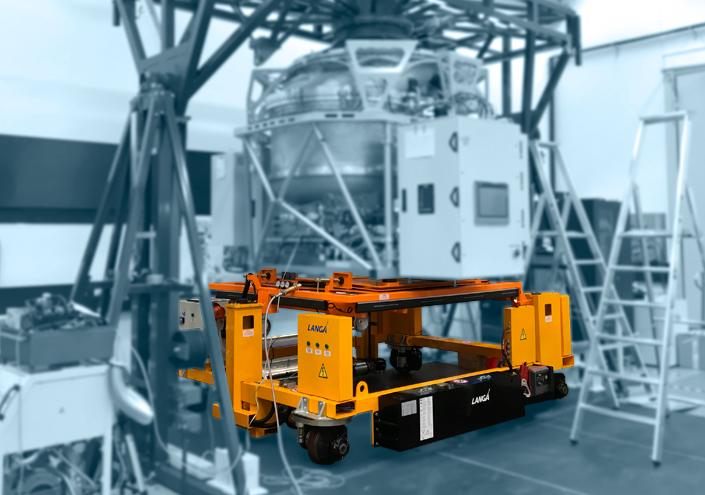 AUTOMATIC POSITIONING AND LEVELLING
A350 wing lower cover automatic lifting system
Lifting system with 8 hydraulic cylinders with 30t capacity controlled automatically by PLC to position A350 wing lower cover for transport between assembly stations.
Airbus Defence & Space. Toledo.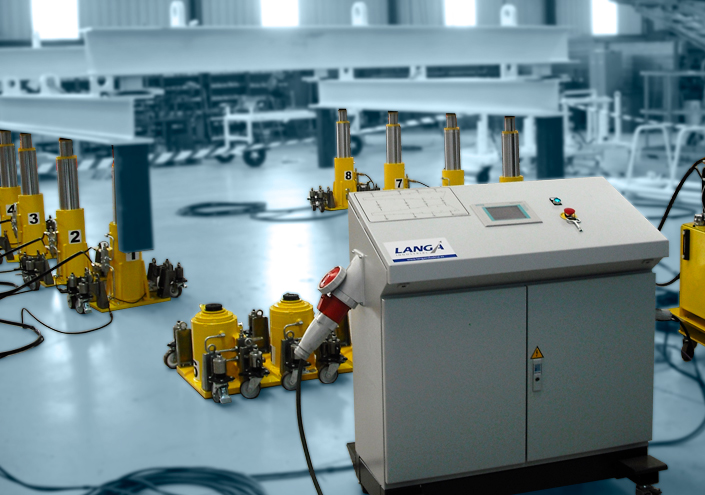 FINAL ASSEMBLY LINE POSITIONING STATIONS
HTP painting station.
Station designed to hold, lift and rotate aircraft HTP to improve painting process.
Airbus Defence & Space. Getafe.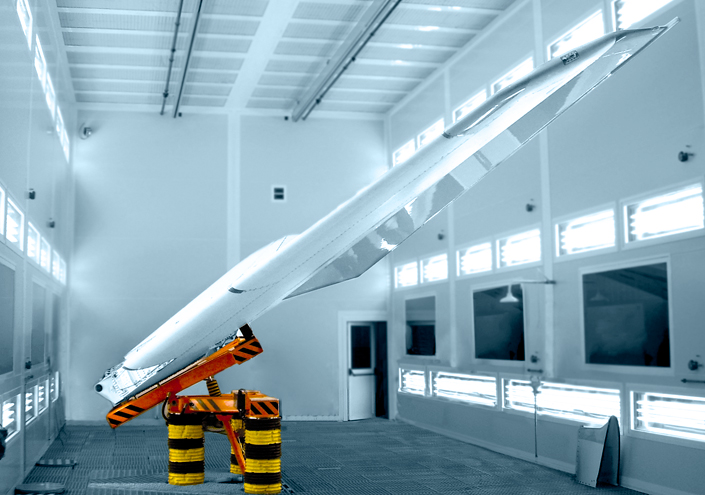 FINAL ASSEMBLY LINE STORAGE, TRANSFER AND INSPECTION STATIONS
Stations designed to hold and lift aircraft components to position during assembly process.
OUR PROJECTS:
• A380 storage and transfer station. Getafe.
• 350 HTP assembly and inspection station. Getafe.
Airbus Defence & Space. Getafe.
• Aircraft engine testing station. Madrid. INTA.
National Institute of Aerospace Technics (INTA)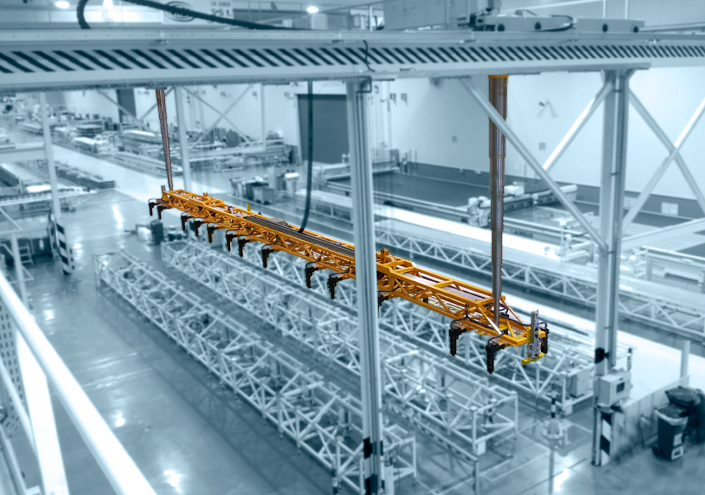 MAINTENANCE POSITIONING TOOLING
We design and manufacture special platforms and tooling with customized interfaces to position and install aircraft components, as well as the appropriate access for the operators during assembly process.
OUR PROJECTS:
• A330 - MRTT Tail Boom support maintenance platforms
Airbus Defence & Space. Getafe.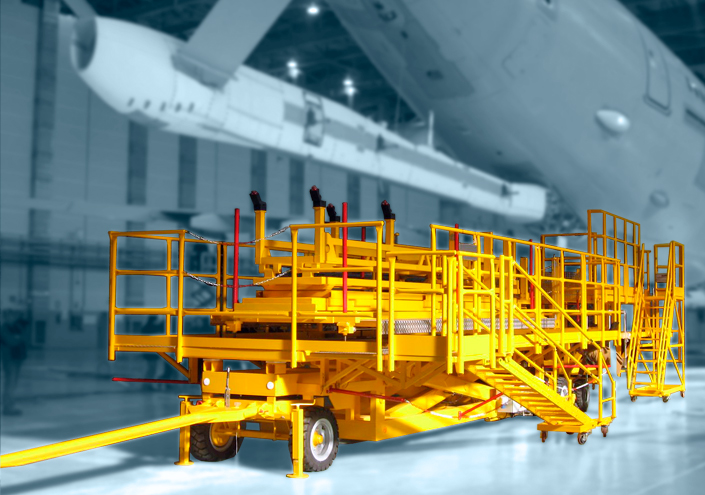 AUTOMATIC JACKING SYSTEMS
Aircraft and helicopters hydraulic jacks automatic controlled by PLC for lift, levelling and weigh in Final Assembly Line stations.
Our systems provide a safe and accurate movement, reducing operation cost and increasing safety.