For military use our
Aircraft Ground Equipment is the best solution
Langa Industrial designs and manufactures a wide range of military Aviation Ground Equipment for many applications to be used with fighters, cargo aircrafts, helicopters and UAV.
We offer different lifting systems, solutions for pushback and towing, access stairs and maintenance platforms for use in ramp or hangar operations. Langa Industrial AGE also supports transport, cargo, move and lifting manoeuvres to assist the aircraft in any weather condition and all around the globe.
Our AGE design is cost effective, rugged for military use and manufactured with standard components to reduce maintenance in order to give a proven reliability in combat operation zones throughout the world.
TRIPOD JACKS
Our range of tripod jacks with load capacity from 2 to 180 tons, covers most of fighters, cargo aircrafts and helicopters available for military use.
Robustness is the design rule of our equipment to ensure a safe and accurate lifting operation in the hard conditions in which military maintenance tasks are performed.
Maximum quality and efficient design reduce costs and maintenance needs. Modular concept, with many options available and air transportable versions for deployment operations.
Military tripod jacks can be operated with our HELPS control system for safe operation, reducing time and resources.
OUR TRIPOD JACKS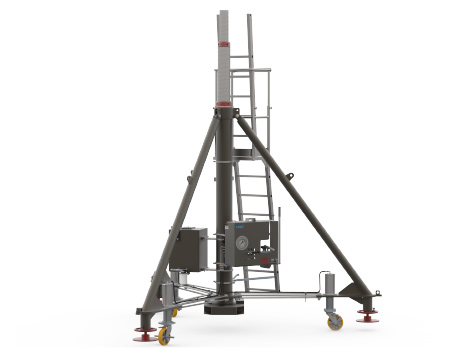 FIGHTERS & CARGO LINE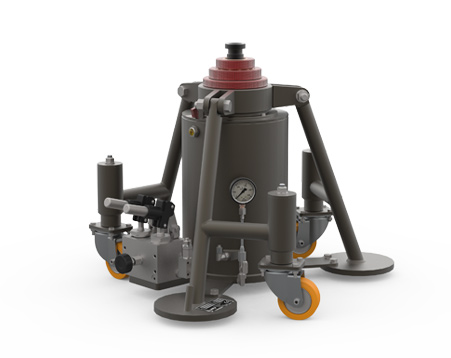 HELICOPTERS LINE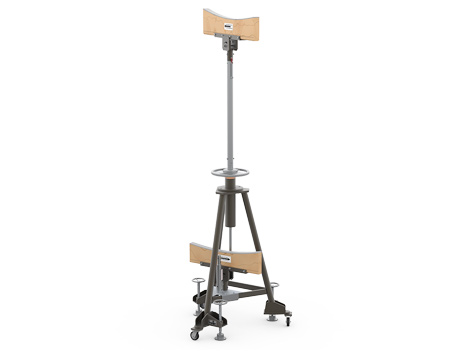 TAIL STANCHIONS
AXLE-JACKS
An experience of 50 years with hydraulic equipment, allows us to offer a wide range of military axle jacks from 5t to 150t in hand carry or ramp & hangar versions and flight kit optimized configuration for deployments services.
They are the perfect choice to make easier wheel and brake maintenance tasks with fighters, cargo aircrafts and helicopters conceived for military use.
As a result of our experience of decades improving our axle jack, give rise a modular design, based in options, making easy the customization of each model to your specific operation needs.
Company commitment to achieve the highest product durability and long service life in military operations, results in a rugged equipment which ensures a reduced maintenance and easy repair operations.
OUR AXLE JACKS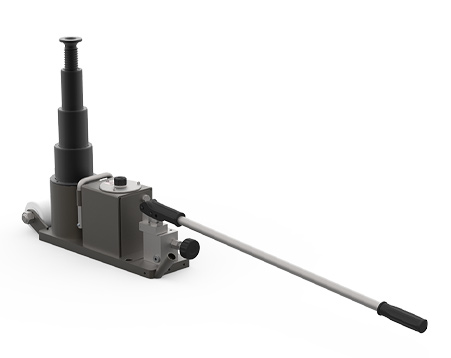 RAMP & HANGAR
FLIGHT KIT
TOWBARS
Our towbars are designed and manufactured to withstand the forces during pushback and towing operations of fighters, cargo aircrafts and helicopters.
Modular concept, with many options available and air transportable flight kit versions for deployment operations.
Thanks to our special military towhead with width adjustment, you will be able to reduce equipment investment operating several aircrafts of different manufacturers just adjusting towhead length and selecting the appropriate interface in the rotating coupling.
OUR TOWBARS

TOWBAR FOR MILITARY AIRCRAFTS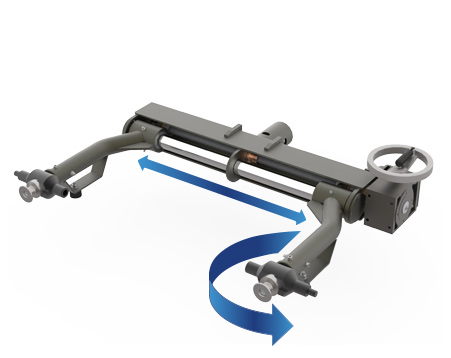 TOWHEAD WIDTH ADJUSTMENT
SERVICE CARTS
Designed for carrying from 2 up to 20 bottles our servicing equipment are an effective and enduring solution to supply oxygen and nitrogen to your military aircraft or helicopter.
Designed with the maximum safety and quality standards, their modular configuration allows the customization of each unit to your specific operation requirements. Reliability and reduce time and resources needed in your maintenance tasks are assured with our simple and user-friendly operation panel.
OUR SERVICE CARTS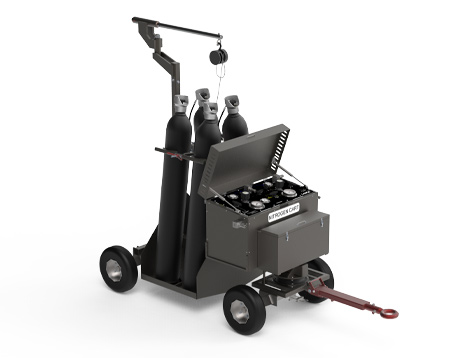 HANGAR CONFIGURATION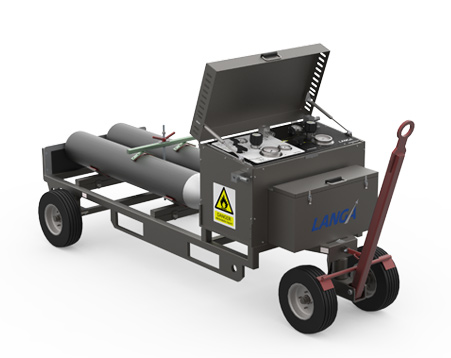 RAMP CONFIGURATION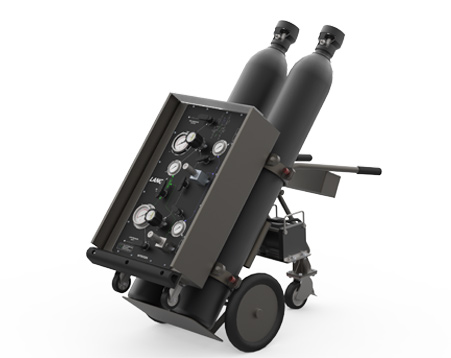 DUAL CONFIGURATION
OUR SERVICE TRUCKS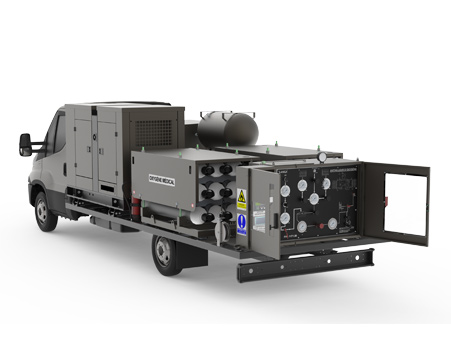 OXYGEN AND NITROGEN SERVICING
CONTROL EQUIPMENT
Control systems are developed to control and monitor fighter aircraft or helicopter lifting operation with a set of hydraulic tripod jacks.
Using our equipment operation is always under control, increasing accuracy and safety. Furthermore, reduce time and resources required for maintenance task is possible thanks to different automatization levels, allowing to save up to 6 operators
OUR CONTROL EQUIPMENT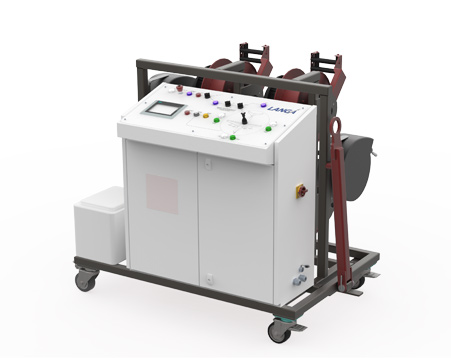 HELPS
Company continuous commitment with innovation give as result our HELPS (Hydraulic and Electronic Lifting Programmable System).
Four different models with 3 automatization levels enable lifting operation by a single operator, monitoring and correcting aircraft pitch and roll angles.
REMOTE CONTROL BOXES
Handling the maintenance task with our remote control boxes, only one person is able to lift an aircraft operating simultaneously a set of tripod jacks, always with levelling under control.
JACK TESTERS
Always with the highest safety and quality standards in mind, our testers are the best option to verify, control and maintain your hydraulic jacks with maximum reliability, precision and security during operation.
Designed to test all tripod and axle jacks from 5 up to 200t existing in the market and from any manufacturer, our tester equipment are valid to perform periodic revision test at 110% of the nominal load of your jacks.
Equipment supplied with a storage and transport case being making it air transportable and a perfect solution to give service during deployments
OUR JACK TESTERS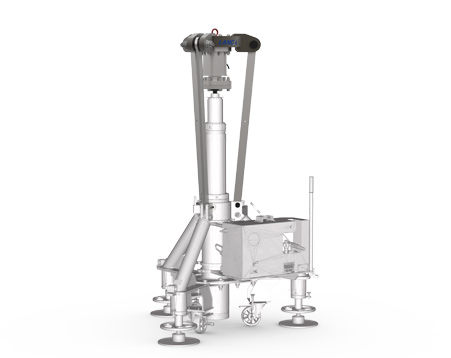 UNIVERSAL JACK TESTER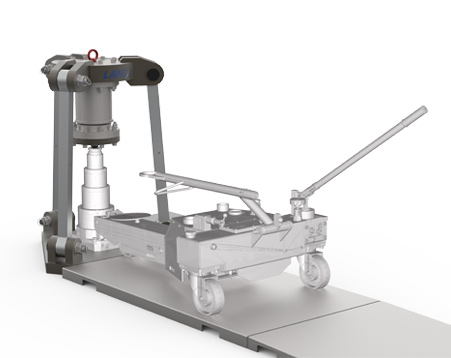 AXLE JACK TESTER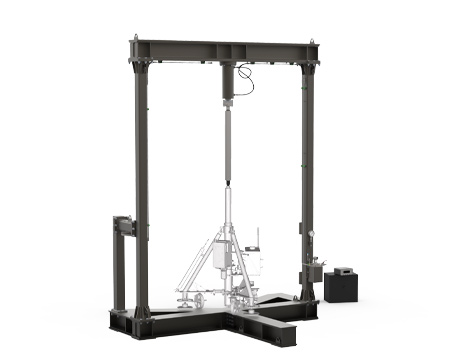 JACK STAND
MAINTENANCE PLATFORMS
Our company has a wide background in the design and manufacturing of hydraulic equipment for loads and persons lifting. An extensive platforms portfolio and their long service life in operation is the result of 50 years' experience giving different solutions to military Air Forces all over the world.
Available in air transportable design for mission deployments, towable versions, self-propelled with diesel, electric or hybrid configurations and truck mounted, our platforms give a perfect adaptation to each maintenance task for fighters, cargo military aircrafts and helicopters. and air transportable flight kit versions for deployment operations.
OUR MAINTENANCE PLATFORMS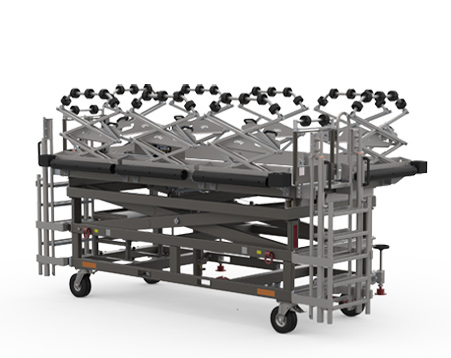 TOWABLE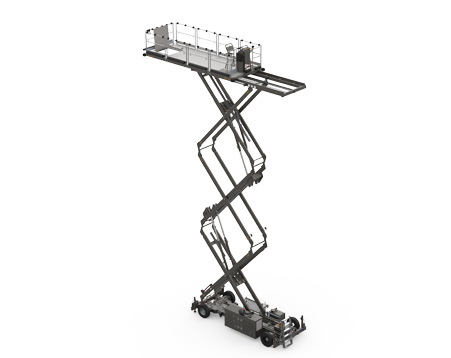 SELF-PROPELLED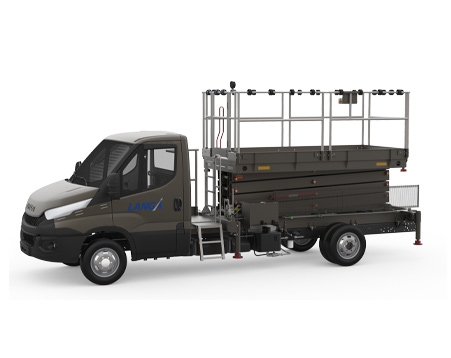 TRUCK MOUNTED
ACCESS STAIRS
Since they are designed specifically for military operations, our ladders and stands are developed with robust structure to reduce maintenance costs and built with worker safety in mind. Maintenance and access stairs offers the right solution for preventive or repair operations of your military aircraft or helicopter.
Their modular configuration, with several options available, allows their customization to your specific maintenance task and air transportable special versions for deployment operations.
Our product range covers all heights with a perfect adaptation to reach all critical areas as engine, above the wings, cockpit or horizontal stabilizers.
OUR ACCESS STAIRS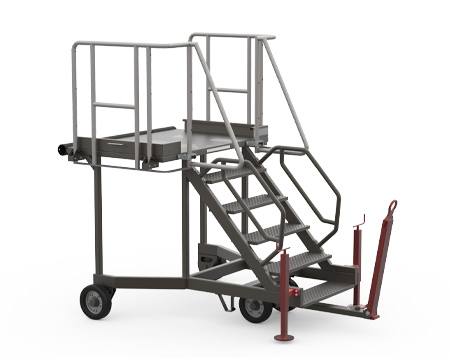 FIXED HEIGHT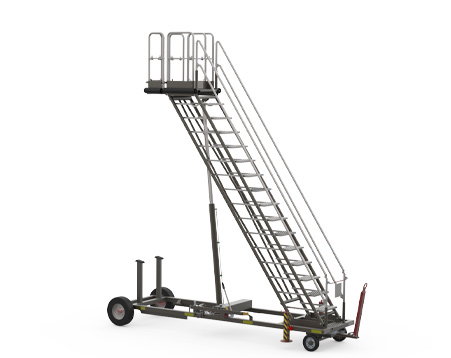 VARIABLE HEIGHT
ENGINE ACCESS
Tactical loaders
Langa air transportable tactical loaders are designed with the highest reliability on irregular grounds and in combat environments. They are a cost-effective solution with optimized load capacity to lift and transfer containers, palletized loads, vehicles and small helicopters in most of military cargo aircrafts.
Our loaders have been specially design to be aligned with the aircraft cargo deck of CASA CN235/C295, Hercules C-130, KC-390, CJ-27 , C17, A400M , IL76 and up to civilian B747 cargo aircraft.
OUR TACTICAL LOADERS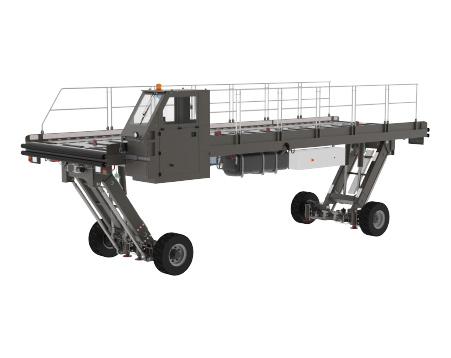 MEDIUM TACTICAL 4 PALLETS LOADER
Capable to transfer loads on all kind of military cargo aircrafts and lowers decks of civilian aircrafts, our medium tactical loader has 4 independent zones, load capacity of 12,5t (27.500lbs) and 2.550mm of transfer height.
Tow tractors
Our models incorporate a new electrical management system with a hydrostatic transmission which provides very progressive and smooth accelerations, breaks and control to ensure comfort and safety during towing and push back operations in hangar or ramp.
The ideal solution when towing fighters, helicopters and medium tactical cargo aircrafts.
OUR TOW TRACTORS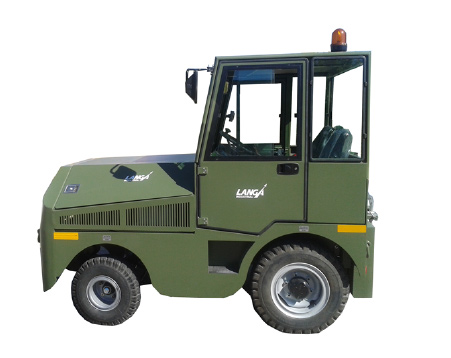 UP TO 7.000 LBS. TRACTOR
Langa Industrial aircraft and helicopter tow tractor is a compact unit with maximum towing capacity of 7.000 lbs (3.000 kg), with a military rugged design and developed to reduce maintenance.
Skid mounted helicopter handlers
Our skid mounted helicopters handlers can be towable (HELITRAILER) or self-propelled by electric drive (HELIMOVER) and they are developed and manufactured to transport and lift helicopters up to 12.100 lbs (5.500 kg).
Rugged military and heavy-duty design to allow long towing distances and a tight turning radius for easy maneuvering in hangar areas. One man operation concept minimizes operation and maintenance tasks.
Langa Industrial helicopter handler models are capable of servicing military and commercial helicopters as BO- 103, H 120/ 153/ 150, AS350/355, B – 205/ 206/ 212/ 412/ AH1 – COBRA, AW- 119 and LYNX.
OUR HELICOPTER HANDLERS
HELITRAILER
HELIMOVER
Mobile maintenance crane
Mobile maintenance crane is a lightweight, foldable and air transportable unit with sufficient vertical range of operation to enable its use in Hardened Aircraft Shelter (HAS), hangar and flight line areas.
The MMC is designed to be mechanical, pneumatical or electrical driven and it is used in conjunction with lifting slings to lift and lower aircrafts components up to 750 kg such as canopies, windscreen, ejection seats, fore plane radomes, radar scanners, ruder airbrake, in board flaperons, rotors, etc.
Our mobile crane is capable of servicing fighters as F-5/ 15 / 16 / 18 / 22/ 35, EUROFIGHTER, RAFALE, GRIPPEN, MIRAGE 2000, CHINOK, SUPER PUMA, BELL 212, 412, NH-90, etc.
OUR MOBILE MAINTENANCE CRANES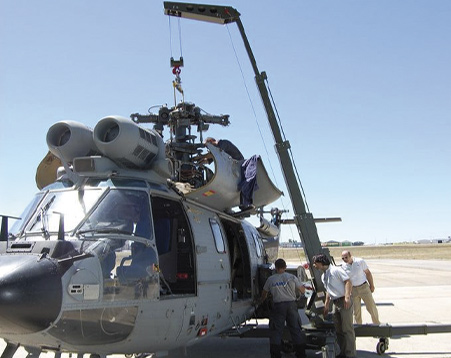 750 KG MMC
Weapon loader trolleys
Our towable weapon loader trolleys and ammunition carts are specially designed to transport, lift and load different types of weapons, torpedos or ammunitions. They can be towable by hand or with a towing tractor or vehicle requiring only one person to be operated.
Positioning of the weapons is very accurate by a multi-adjustable cradle. With a rugged military design to operate in any climate or the most adverse conditions in land and marine environments.
OUR WEAPON LOADER TROLLEYS
TOWABLE BY HAND
TOWABLE BY TRACTOR OR VEHICLE